Cash Advance for Merchant services Account Holder
Based upon your average credit card sales in the recent period (90-120 days) you can qualify for cash advance from a number of institutions. To get a pre approval for such cash advance you might have to wait for 24 hours to 3 weeks.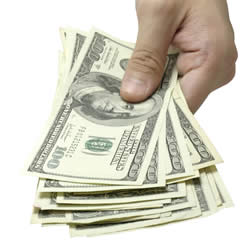 How this cash advance works
Usually after the cash advance is approves, the amount is paid to the service merchant upfront. And the payback is collected from every day credit card sales. Either as an online business holder or as any other sort of business owner, it is getting more and more difficult to get approval for a traditional business loan unless you have all the paperwork ready at hand. However, you might be in need for some immediate cash for your business. CCMP helps you to get approval for cash advances as an additional service along with your regular merchant account service. And the rate of approval for merchant cash advance is quite high with us. If you have a query, call us, and one of our service stuff will lead you to your desired destination and help you to find the right direction towards that destination.